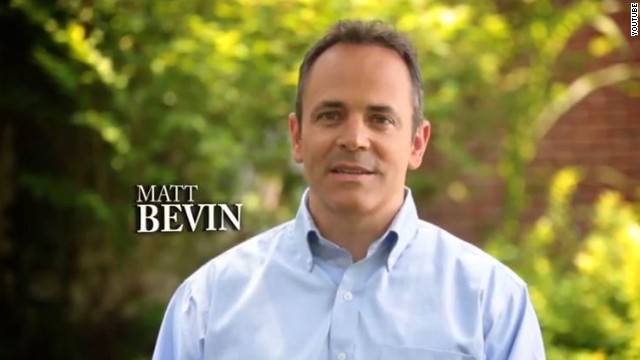 Congratulations to all of our brothers and sisters in Liberty down in Kentucky on the election of Matt Bevin.  He is a great man that will serve, protect and defend the Constitution and the state of Kentucky. I look forward to pointing south and saying, 'Why isn't Ohio doing that?!'
Congratulations to all the candidates that were on the ballot last Tuesday.  Not just those who won, but all who stepped up to make their voices heard.  It takes courage to put your name on the ballot, to put your ideas on the line.  I am proud of all the candidates who ran for office.  Win or lose, you made a difference. Your message is out there and your community is stronger because of your efforts.
As we move forward, we will need to continue to flex that courage muscle. Courage, like anything else we do, needs to be exercised. You workout your biceps, you need to workout your courage.
Talk to someone at the store about politics.  See a mom in line, ask them about Common Core.  See a Veteran, thank them for their service, then ask them about the VA and how they have been treated by our government.
Listen, learn…then teach. As you listen to what someone thinks you will learn about where they come from politically.  Once you understand them better you can send some information their way; an article or a link to a website. We must spread our message of fiscal responsibility, limited Constitutional government and the free market far and wide. Teaching is how you can make a difference.
Liberty Events this Week
Dayton FreedomFest
WHEN:  Monday, November 9, 2015 at 7pm
WHERE: 965 Miamisburg-Centerville Road – Dayton, OH 45459
Get free tickets: https://www.eventbrite.com/e/dayton-freedomfest-tickets-18809945052
South Montgomery County Liberty Group is proud to welcome Congressman Jim Jordan (R – OH) for an amazing evening. Joining Congressman Jordan will be other groups such as Montgomery County Republican Party, and other Liberty Groups.
Warren County Tea Party
When: Monday,  November 9th at 7pm
Where: Warren County Government Building. 406 Justice Drive in Lebanon
Join the Warren County Tea Party as they ask questions of Warren County Sheriff, Larry Sims.
Empower U – The Truth about the Iran Deal
When: Monday, November 9, 2015 7:00 -8:30 p.m.
Where: The Farm. 219 Anderson Ferry Road Cincinnati, Ohio, 45238
Join EmpowerU as we welcome Representative, Steve Chabot, for this enlightening session. Steve Chabot will walk us through the Iran Nuclear Deal. 
During this session, he will disclose major concessions and explain why the agreement has huge dangerous gaps and historic implications!
Join us for this session and become informed about this important topic. 
Remember on Veterans Day: The Forgotten Veterans and Gold Star Mothers of World War I
When: Tuesday, November 10, 2015 7-8:30 PM
Where: Covington Library. 502 Scott Blvd Covington, Kentucky 41011
Register here https://events.r20.constantcontact.com/register/eventReg?llr=wy6u5xeab&oeidk=a07ebgqi0gu4d5ae80e&oseq=
Author, John Graham leads us on a pilgrimage filled with great sorrow and great history of The Gold Star Mothers of World War I.
During the first World War, a flag with a gold star identified families who had lost soldiers. Grieving women were "Gold Star" mother and widows.
Between 1930 and 1933 the United States government took 6,654 Gold Star pilgrims to visit their sons' and husbands' graves in American cemeteries in Belgium, England, and France.  This session is about these pilgrimages from their launch to the present day, beginning with an introduction to the war and wartime burial. Remember on Veteran's Day the Gold Star Mothers with this EmpowerU Session.
Ohio Republican Liberty Caucus
When: Saturday, November 14 at 11am
Where: Williams on the Lake, 787 Lafayette Rd in Medina, Ohio
Facebook  Event to register – http://www.facebook.com/events/1634450573482592/
Watch Live on Saturday at 11am – http://oh.rlc.org/rlcoh-liberty-index-conference
The Republican Liberty Caucus of Ohio (RLCOH) announces plans to unveil the first liberty index of all sitting Ohio legislators. In addition, GOP candidates will be surveyed and potentially endorsed by the RLCOH, a state charter of the National Republican Liberty Caucus.
All liberty‐minded Ohioans are all invited to Williams on the Lake, 787 Lafayette Rd in Medina, Ohio, on November 14th at 11:00 AM or via a live stream from RLCOH.org to hear about these tools first hand. Those planning to attend can go to and register for this free event.
Representative Tom Brinkman, Senator Kris Jordan and former Ohio legislator and current Congressional candidate Matt Lynch will share their thoughts around Ohio liberty issues.
Building Blocks for Liberty – Constitution Boot Camp
When: Saturday, November 14th .  Sign in begins at 8:15am.
Where: Washington Heights Baptist Church, 5650 Far Hills Avenue Dayton, Ohio 45429
The next Constitution Boot Camp has been scheduled for November 14th in Kettering, OH. Suggested donations are $20 for initial attendee, families may book additional attendees for a donation of only $5.  Already attended ? Why not take a refresher for only $5 ?
Included in the $20 donation is a book on the "Federalist Papers", the "5000 Year Leap" and a copy of  "The Constitution Made Easy". Everyone will get a  binder with the presentation and other selected papers for you to read and use as a reference as well as lunch.
These sessions are appropriate for teenage students. Parents and Grandparents, we encourage you to bring your children & grandchildren to the class ! You can get more information about BBFL at our website:
www.buildingblocksforliberty.org.
Kris Anne Hall Speaks to General Assembly Members
When: Wednesday, November 18th for Lunch and Thursday, November 19th for Dinner
Where: MCL Westerville. 76 East Schrock Road Westerville, OH 43081
Contact your State Rep today. KrisAnne is coming back to Ohio on November 18th and 19th and talk this through with as many State and local officials as we can get together.
We need for YOU to contact your State Rep and Senator, tell them you want them to take about 90 minutes to listen to KrisAnne talk, that she is coming to Columbus for their convenience.
We have created an invitation that you can copy, personalize and then mail/email to your State Rep and Senator. You will then need to follow up with a phone call as well, urging them to make time and attend one of these meetings.
Forward this to your friends and neighbors and have them mail/email and call to urge their State Reps, County Sheriff, local officials to make one of these meetings.
We need to do this quickly, this is how we can tame the creature we created with the Constitution, a creature bent on shredding that document along with State Sovereignty and our individual liberties as well!