I went to DC over the weekend and visited the Jefferson Memorial. I had never visited the memorial before. I got up early on Saturday took a cup of coffee and sat for a bit with Jefferson.
The memorial is very striking, all white marble with the large statue of Jefferson in the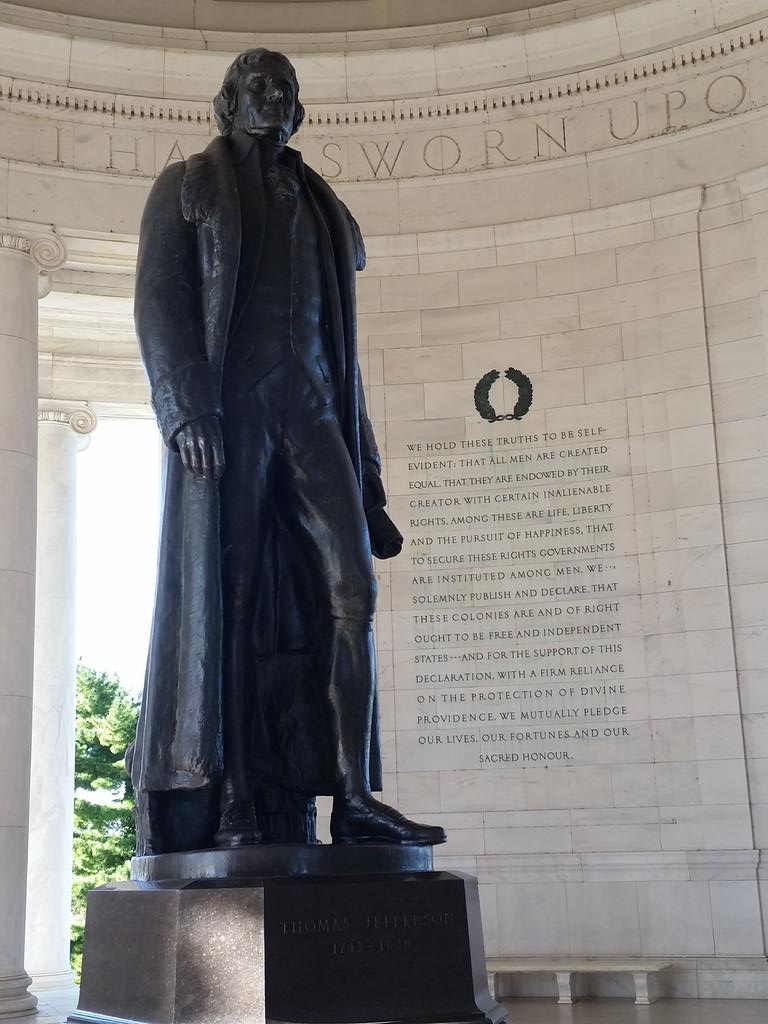 middle. The breeze coming off the tidal pool during the cool hours of morning made it a perfect place to think. There were benches around the edge of the room.  I sat watching the tourists take pictures, parents explaining who Jefferson was to their children and people coming in just for a quick look.
On the walls are great quotes from Jefferson.
The quote that struck me the most was wrapped around the base of the ceiling.
"I have sworn upon the altar of God eternal hostility against every form of tyranny over the mind of man."
I was leaving when I saw that quote. The force of it made me sit back down.
I started thinking about all the forms of tyranny that we have in our country. All the ways government, be it federal, state or local governments, force us to do or act a certain way out of fear of penalty.
Jefferson would be enraged if he saw all the tyranny in the United States of America. He wouldn't be alone.  There are thousands of us that feel the same way.
We all must work to undo the tyranny in our nation.  It will be hard work. It will take years, but it must be done.
The country that Jefferson built still exists, we must fight for it.
Yours in Liberty,
Ann Becker
This Weeks Liberty Events
AFP Grassroots Leadership Academy
When: Tuesday, August 25th at 6:30pm
Where: Swaim Park Lodge. 7650 Cooper Road Montgomery, OH 45242
AFP has their second Grassroots Leadership Academy Event this Tuesday August 25th! If you missed the first one no problem. This event is about how the Left with Anita Moncrief operates and you do not want to miss it. It's going very interesting and educational.
Combined Northern Kentucky Tea Party Meeting
When: 7pm, Thursday, August 27
Where: Holiday Inn, 7905 Freedom Way, Florence, KY 41042
This month's joint meeting focuses on the Convention of the States, Article 5 Convention.  Main presentation by Publius-Huldah on the dangers of this seemingly harmless movement to pass a balanced budget amendment.  If you missed this presentation in Ohio, this is your chance to learn of the dangers.  Learn more here. https://publiushuldah.wordpress.com/ or here
http://www.renewamerica.com/columns/huldah
Brown County Tea Party Annual Community Picnic
When: Saturday, August 29th at 2pm
Where Mt. Orab Municipal Park located at 613 South High St. (Rte 68)
Brown County Tea Party would like to invite the public to their annual community picnic on Saturday, August 29th at 2:00 pm at the Mt. Orab Municipal Park located at 613 South High St. (Rte 68) Mt. Orab. State Representative Doug Green, State Senator Joe Uecker, a representative for Congressman Wenstrup, candidates running for sheriff, and many local officials will be there. You will have the opportunity to meet them and express any concerns you may have about their office or their position on issues. You may bring a covered dish if you desire but it is not necessary. We suggest you bring a lawn chair.
Ohio Precinct Project – Northeast Ohio Training
When: Saturday, August 29th at 1pm
Where: Maplewood Career Center 7075 State Route 88 Ravenna, OH 44266
There is a way that regular citizens CAN make a real difference and take charge of the political process from the elite party establishments. The answer is through "party central committee." Central committee members are the backbone of the political parties in our state and have a powerful influence over which candidates are ultimately elected to office – and you can be a member!
Share with us
– Do you have a news article that you want to share with us?  Do you have political news in your area? Let us know and we will share it.
Post the information or link here.